XPEL 375 QUALIFYING NOTES
8th: RINUS VEEKAY 220.748 mph
16th: CONOR DALY 219.987 mph
21st: ED CARPENTER 219.212 mph
LOCATION: Texas Motor Speedway/Fort Worth, TX
TRACK LAYOUT: 1.5-Mile Oval
RACE LENGTH: 248 Laps/600 Kilometers
BROADCAST: Sunday – NBC, 12:30 p.m. ET
CONOR DALY, NO. 20 BITNILE CHEVROLET
CONOR DALY, No. 20 BitNile Chevrolet, Qualified 16th: "Honestly, we did what we could do. I might have sacrificed a fair on the first lap, I was a little free on entry and I may have over-adjusted for that. But I never lifted and the car had good speed. Thankful for the team, they've been working really hard on this and gave me a great car in qualifying. We'll see what the BitNile Chevrolet has tomorrow!"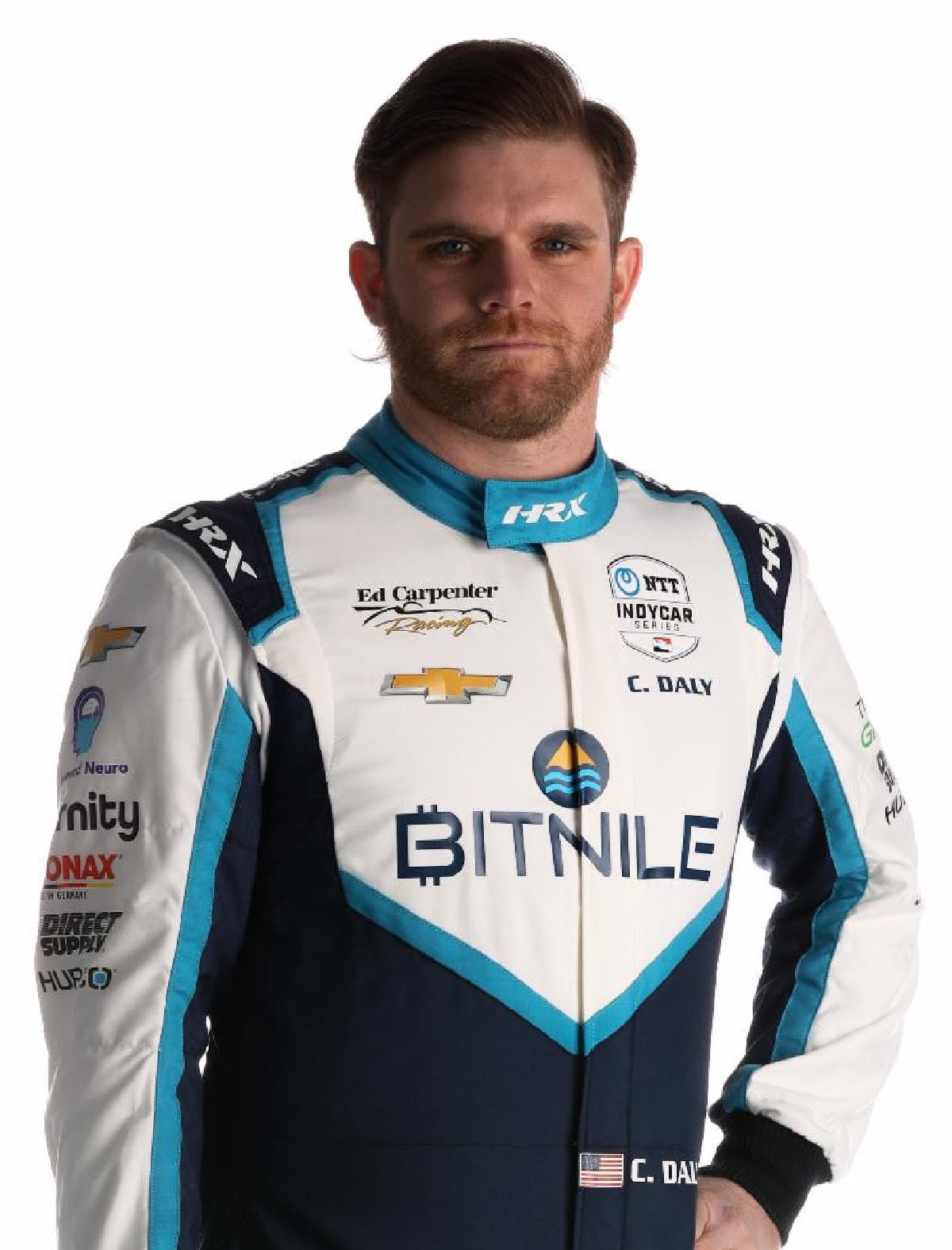 TEXAS STATS
'22 STARTING POSITION: 16th
BEST START: 16th (2022)
BEST FINISH: 6th (2020)
NUMBER OF STARTS: 6

CAREER STATS
SEASON: 9th
STARTS: 81
POLES: 1
BEST FINISH: 2nd, Detroit 2016
OF NOTE:
Conor Daly's two-lap average of 219.987 mph will have him starting 16th in tomorrow's XPEL 375. Though the 2022 NTT INDYCAR SERIES season marks Conor Daly's third with Ed Carpenter Racing, it is his first as full-time driver of the No. 20 BitNile Chevrolet. Texas Motor Speedway is Daly's first oval race with ECR outside of the Indianapolis Motor Speedway.
Daly has raced at Texas Motor Speedway six times with a best finish of 6th in 2020. Just last week, he participated in a one-day test at TMS alongside teammate VeeKay in preparation for this Sunday's XPEL 375.
The season-opening Firestone Grand Prix of St. Petersburg marked the beginning of Daly's relationship with BitNile Holdings, Inc., who will serve as primary partner for the No. 20 Chevrolet in a multi-year deal. The diversified holding company specializes in disruptive technologies, including cryptocurrencies and innovations in the field of Decentralized Finance ("DeFi"). BitNile focuses on large-scale crypto mining with energy-efficient, powerful operations strategically located in North America.
RINUS VEEKAY, NO. 21 SONAX CHEVROLET
RINUS VEEKAY, No. 21 SONAX Chevrolet, Qualified 8th: 
"The SONAX Chevy was pretty good! Especially the first lap, it was better than I expected. It was nice to have two cars from the team going ahead of me and telling me what to expect, good thing about having a three-car team this weekend. I am pretty happy, I could have been more proactive with the tools, but overall a solid qualifying."

TEXAS STATS
'22 STARTING POSITION: 8th
BEST START: 8th (2021, 2022)
BEST FINISH: 9th (2021)
NUMBER OF STARTS: 3

CAREER STATS
SEASON: 3rd
STARTS: 30
WINS: 1
POLES: 1
OF NOTE:
Rinus VeeKay matched his best qualifying effort at Texas Motor Speedway and will start 8th in tomorrow's XPEL 375. VeeKay sits 6th in points and therefore was the 6th-to-last car to qualify. Both Carpenter and Daly provided feedback from their runs, benefiting VeeKay and helping him achieve a two-lap average of 220.748 mph.
Texas Motor Speedway is the home of VeeKay's NTT INDYCAR SERIES debut in 2020, the season in which he won Rookie of the Year. He competed in last year's doubleheader event, qualifying 8th for Race 1 and finishing 9th in Race 2. VeeKay tested alongside Daly last Thursday at TMS.
Longtime ECR partner SONAX will be featured on the No. 21 Chevrolet in Texas. SONAX Car Care is an innovative manufacturer of premium car care products for optimum maintenance, protection and rejuvenation of vehicles. All products are developed and manufactured in Neuburg, Germany, where SONAX was founded over 50 years ago. Today, the brand is represented in 80 countries around the world and is available in the U.S. through car care superstore Autogeek.com.
ED CARPENTER, NO. 33 ALZAMEND NEURO CHEVROLET
ED CARPENTER, No. 33 Alzamend Neuro Chevrolet: "We were the first ones out to qualify, so we had to sit there and wait to see how we did. It was a long wait! So many new things this weekend, new sponsor with Alzamend Neuro, new car number, new strategist with Charlie [Kimball]. This is my first time with Vincent [Grilli-Meunier] as my race engineer, but we've worked together for a long time. I've known all of these guys for a long time, it still feels like home!"

TEXAS STATS
'22 STARTING POSITION: 21st
WINS: 1 (2014)
BEST START: 5th (2011, 2014)
NUMBER OF STARTS: 21

CAREER STATS
SEASON: 20th
STARTS: 191
WINS: 3
POLES: 4
OF NOTE:
Qualifying order is set in the reverse order of entrant points; as this is the first race for Ed Carpenter this season, he does not yet have any points and was first out. With a two-lap average of 219.212 miles per hour, Carpenter will start 21st.
Carpenter will be one of the most experienced drivers in the field this weekend with 21 starts at Texas Motor Speedway to date. With the exception of 2010, Carpenter has competed in every NTT INDYCAR SERIES race at TMS since the fall of 2003. He is also the 2014 Texas race winner, taking the victory after leading 66 of the final 67 laps.
Though Carpenter's car is an expansion to ECR's usual two-car program, the No. 33 Alzamend Neuro pit will consist of many familiar faces. Most crew members are an annual part of ECR's Indy 500 program, some having been with the team since its first time with three cars in 2015. Carpenter's crew will also be supplemented with several of ECR's shop-based employees who are trackside each Month of May.