RACE PREVIEW – XPEL 375 at Texas Motor Speedway
While Ed Carpenter Racing has entered three cars in the Indianapolis 500 multiple times, this weekend's race at Texas Motor Speedway will mark the first time the team has expanded to three entries outside of their home race. Ed Carpenter, the only owner/driver in the NTT INDYCAR SERIES, will join his team's full-time drivers Conor Daly and Rinus VeeKay for the three-car lineup.
CONOR DALY, NO. 20 BITNILE CHEVROLET
CONOR DALY, No. 20 BitNile Chevrolet: "I don't think I've ever felt as confident heading into the Texas weekend as I do now! It was great to test there last week and I was very, very happy with the BitNile Chevy. We'll have a lot to go through once we get there for the race weekend, but it feels like we have a good amount of information from the test from Rinus and I. We'll have Ed in the car this weekend as well, so that will help even more. The more information we can gather, the better! I am very excited to get down there and get things going. I love racing at Texas! It will also be my first time there with ECR so I am excited to see how we can all do."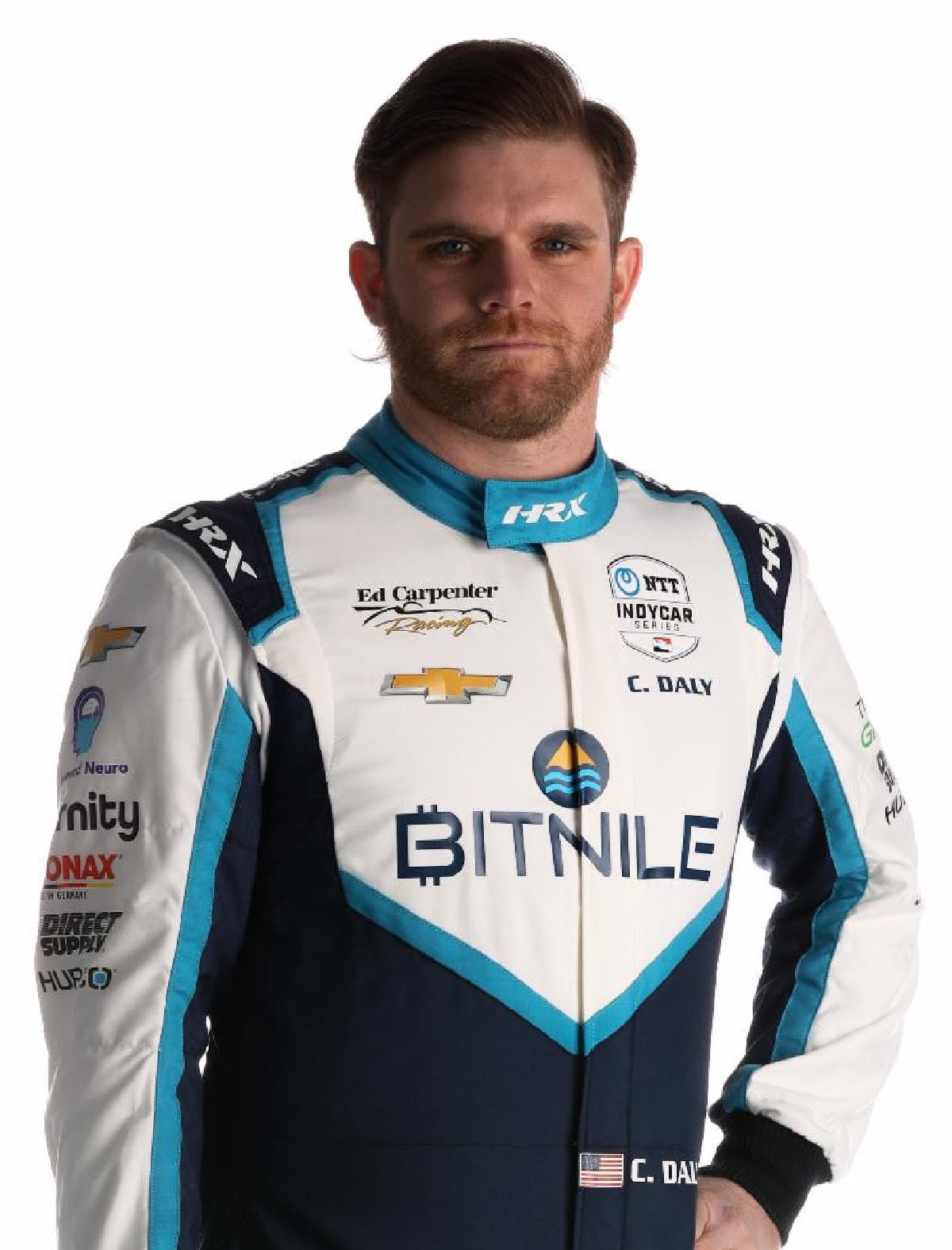 BIRTHDAY: December 11, 1990
HOMETOWN: Noblesville, IN
RESIDENCE: Indianapolis, IN

TEXAS STATS
BEST START: 19th (2019, 2020)
BEST FINISH: 6th (2020)
NUMBER OF STARTS: 6

CAREER STATS
SEASON: 9th
STARTS: 81
POLES: 1
BEST FINISH: 2nd, Detroit 2016
OF NOTE:
Though the 2022 NTT INDYCAR SERIES season marks Conor Daly's third with Ed Carpenter Racing, it is his first as full-time driver of the No. 20 BitNile Chevrolet. For the past two seasons, Daly has raced for ECR in the road and street course events and the Indianapolis 500; for the ovals, he raced for Carlin. Texas Motor Speedway will mark Daly's first oval event with ECR outside of the Indianapolis Motor Speedway.
Daly has raced at Texas Motor Speedway six times with a best finish of 6th in 2020. Just last week, he participated in a one-day test at TMS alongside teammate VeeKay in preparation for this Sunday's XPEL 375.
The season-opening Firestone Grand Prix of St. Petersburg marked the beginning of Daly's relationship with BitNile Holdings, Inc., who will serve as primary partner for the No. 20 Chevrolet in a multi-year deal. The diversified holding company specializes in disruptive technologies, including cryptocurrencies and innovations in the field of Decentralized Finance ("DeFi"). BitNile focuses on large-scale crypto mining with energy-efficient, powerful operations strategically located in North America.
RINUS VEEKAY, NO. 21 SONAX CHEVROLET
RINUS VEEKAY, No. 21 SONAX Chevrolet: "I am really excited to head back to Texas! We had a great test there last week and I feel like we are in a very good place with the car. Also, I am excited for barbecue and cowboy hats!"

BIRTHDAY: September 11, 2000
HOMETOWN:Hoofddorp, Netherlands
RESIDENCE:Fort Lauderdale, FL

TEXAS STATS
BEST START: 8th (2021)
BEST FINISH: 9th (2021)
NUMBER OF STARTS: 3

CAREER STATS
SEASON: 3rd
STARTS: 30
WINS: 1
POLES: 1
OF NOTE:
By starting his third straight season with Ed Carpenter Racing, Rinus VeeKay is now the longest-tenured full-time driver in the team's history. VeeKay made his 30th career start in the season-opening Firestone Grand Prix of St. Petersburg.
Texas Motor Speedway is the home of VeeKay's NTT INDYCAR SERIES debut in 2020, the season in which he won Rookie of the Year. He competed in last year's doubleheader event, qualifying 8th for Race 1 and finishing 9th in Race 2. VeeKay tested alongside Daly last Thursday at TMS. 
VeeKay's 2022 campaign was off to a strong start in the streets of St. Petersburg. He made his first Firestone Fast 6 appearance, earning the 4th starting position. He led the race for 13 laps and despite being tasked with hitting a difficult fuel number in the closing laps, he came home with a 6th place finish. 
Longtime ECR partner SONAX will be featured on the No. 21 Chevrolet in Texas. SONAX Car Care is an innovative manufacturer of premium car care products for optimum maintenance, protection and rejuvenation of vehicles. All products are developed and manufactured in Neuburg, Germany, where SONAX was founded over 50 years ago. Today, the brand is represented in 80 countries around the world and is available in the U.S. through car care superstore Autogeek.com.
ED CARPENTER, NO. 33 CHEVROLET
ED CARPENTER, No. 33 Chevrolet: "I am excited to get back to Texas! It's always fun going to a track you've won at before and a place you've been successful, hopefully we can repeat that this year. My teammates tested there last week and it went fairly well. I feel really good about the work the team got accomplished, though it would have been nice to have participated in the test myself. But, as a part-timer, I have to pick and choose what I do! I am ready to get going and excited to have a race in the No. 33 – a new number for me! – and get back in the groove before we get to Indianapolis."

BIRTHDAY: March 3, 1981
HOMETOWN: Indianapolis, IN
RESIDENCE: Indianapolis, IN

TEXAS STATS
WINS: 1 (2014)
BEST START: 5th (2011, 2014)
NUMBER OF STARTS: 21

CAREER STATS
SEASON: 20th
STARTS: 191
WINS: 3
POLES: 4
OF NOTE:
Ed Carpenter will begin his 20th season of NTT INDYCAR SERIES competition this weekend at Texas Motor Speedway. He has led his own team since ECR was formed prior to the 2012 season; since 2014, he has focused exclusively on driving the oval events. Even with an oval-only schedule, Carpenter has earned at least one Top 5 finish in each of the past four seasons. He has also led at least one race in 13 of the past 14 seasons.
Carpenter will be one of the most experienced drivers in the field this weekend with 21 starts at Texas Motor Speedway to date. With the exception of 2010, Carpenter has competed in every NTT INDYCAR SERIES race at TMS since the fall of 2003. He is also the 2014 Texas race winner, taking the victory after leading 66 of the final 67 laps.
With Daly competing the in the No. 20 BitNile Chevrolet for the full season, Carpenter will transition to the new No. 33 Chevrolet for the five oval events this year.
Though Carpenter's car is an expansion to ECR's usual two-car program, the No. 33 pit will consist of many familiar faces. Most crew members are an annual part of ECR's Indy 500 program, some having been with the team since its first time with three cars in 2015. Carpenter's crew will also be supplemented with several of ECR's shop-based employees who are trackside each Month of May.