ABC SUPPLY CO. 500 AT POCONO RACEWAY, QUALIFYING REPORT
ABC SUPPLY CO. 500 AT POCONO RACEWAY, QUALIFYING REPORT
The Verizon IndyCar Series is at Pocono Raceway this weekend for the ABC Supply Co. 500. Today's on track action saw a 90-minute practice session followed by afternoon qualifying around Pennsylvania's "Tricky Triangle".
It was Colombian Carlos Muñoz leading the qualifying effort today for the Andretti Four; he will start from the sixth position tomorrow. Following him on the grid will be teammates Justin Wilson and Ryan Hunter-Reay lining up in seventh and eighth, respectively. Marco Andretti topped the speed charts early in the morning session, but a tricky Lap 1 in qualifying leaves the hometown favorite in P22 for the start of tomorrow's 500 miles.
CARLOS MUÑOZ
NO. 26 ANDRETTI TV / CINSAY HONDA
"I think I was expecting a little lower (speeds), I was expecting 218s. The car was really good, we changed some stuff on warm up. I love this track. I've always been competitive here, so I'm ok with qualifying. I think we did the best with what we had, and tomorrow is a 500-mile race so we will see what can happen."
JUSTIN WILSON
NO. 25 ANDRETTI AUTOSPORT HONDA
"Definitely looking forward to the race tomorrow. I've got to thank Andretti Autosport and Honda; the car is working really well here. I'm really pleased with it. Hopefully we can keep making a couple more tweaks and get even better for this evening's practice, and do some race running. I think it will be a good race."
RYAN HUNTER-REAY 
NO. 28 DHL HONDA
"I think that was a good run. We could have been a little bit better maybe, but you have to be careful. Especially considering what happened with Charlie (Kimball) there — you can overstep it here. It's a fine line. Usually for 500-mile races it's not a big deal for qualifying, you don't put much emphasis on it, but here it's very tough to pass sometimes. They don't call it the Tricky Triangle for nothing."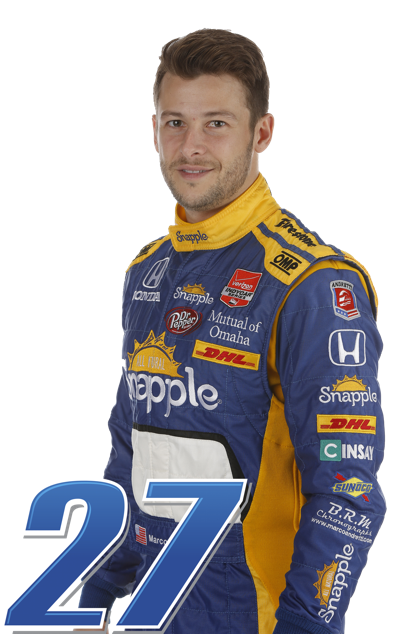 MARCO ANDRETTI
NO. 27 SNAPPLE HONDA
"(On the first lap) the car went down into (Turn) 1 and it just didn't turn. It really caught me off guard — I almost hit the wall with the right front (tire). I just had to really pedal it and save it. To regather it and still have one more lap to go… It was a long run. I think we got a little greedy, but luckily it's 500 miles of racing tomorrow."
Catch all of the Verizon IndyCar Series racing action LIVE from Pocono Raceway on NBC Sports Network at 2 p.m. ET Sunday. For live radio coverage, turn to Sirius 212, XM 209, IndyCar.com, indycarradio.com and on the INDYCAR 15 app. Stay up to date on all things Andretti via AndrettiAutosport.com and @FollowAndretti.