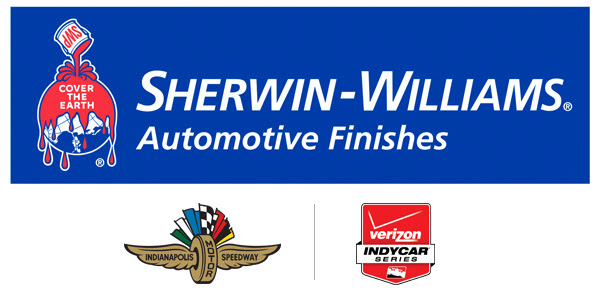 Sherwin-Williams joins IMS, INDYCAR as official partner in multi-year agreementINDIANAPOLIS (July 28, 2015) – Sherwin-Williams, an industry leader in paint and coatings, will serve as the Official Paint and Finishing Partner of the Indianapolis Motor Speedway, INDYCAR, the Verizon IndyCar Series, Indianapolis 500 Mile Race, Angie's List Grand Prix of Indianapolis and the NASCAR Sprint Cup Series Crown Royal 400 at the Brickyard as part of a multi-year partnership agreement.
"Sherwin-Williams is extremely excited for this new relationship with INDYCAR and the Indianapolis Motor Speedway," said Bobby Moody, Director of Motorsports, Sherwin-Williams. "We're looking forward to everything this new partnership entails, including celebrating the 100th Running of the Indianapolis 500 next May."
The company will have branding integrated into IMS during its spotlight events in the Month of May, including the Indianapolis 500 Mile Race and the Angie's List Grand Prix of Indianapolis; as well as inclusion from a paint and finishing perspective, in Project 100, the collaboration between the Indiana state government and the Indiana Motorsports Commission creating a $100 million bond issue to raise money for improvements to IMS.
Full-time teams in the Verizon IndyCar Series have the opportunity to use paint and finishing products under terms of the agreement. Sherwin-Williams will also offer unique customer experiences to enhance business-to-business programs.
"We're extremely proud to announce this partnership with Sherwin-Williams and confident it will be a tremendous asset for both the Indianapolis Motor Speedway and INDYCAR," said Mark Miles, CEO of Hulman & Company, the parent of INDYCAR and the Indianapolis Motor Speedway. "Sherwin-Williams' support of both brands, in addition to many of our events at IMS, is obviously valuable – but we're also very excited for the opportunity to integrate their paint and finishing products into the facility itself, including many projects we have planned for Project 100. We look forward to a very successful partnership and are thankful to Sherwin-Williams for the support."
About Sherwin-Williams:
For nearly 150 years, Sherwin-Williams has been an industry leader in the development of technologically advanced paint and coatings. As the nation's largest specialty retailer of paint and painting supplies, Sherwin-Williams is dedicated to supporting both do-it-yourselfers and painting professionals with exceptional and exclusive products, resources to make confident color selections and expert, personalized service at its more than 4,000 neighborhood stores across North America. Sherwin-Williams has been ranked "Highest in Customer Satisfaction among Paint Retailers, Three Years in a Row" in the J.D. Power 2015 Paint Satisfaction StudySM. For more information, visitsherwin-williams.com. Join Sherwin-Williams on Facebook, Twitter, Pinterest, Instagram and Tumblr.