ABC Supply Co. Wisconsin 250, Race Report
The checkered flag has flown over the ABC Supply Wisconsin 250 at the Milwaukee IndyFest. The 250-lap race brought the Andretti Four together for the first time since this year's Indianapolis 500 with series veteran Justin Wilson joining the program for the remainder of the 2015 season. An action-packed race with just three caution periods saw Wilson retire early due to a mechanical issue and Andretti, Hunter-Reay and Muñoz miss out on pit strategy due to the final, and untimely, yellow caution period.
The Verizon IndyCar Series next heads to Newton, Iowa for 300 laps of racing under the lights at Iowa Speedway on July 18. In the meantime, stay up to date on all things Andretti via AndrettiAutosport.com and @FollowAndretti.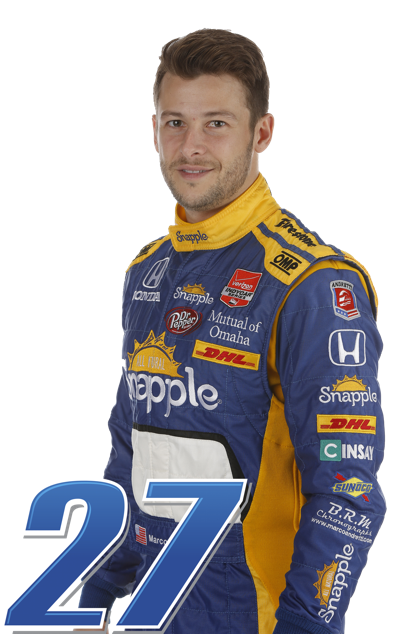 MARCO ANDRETTI
NO. 27 SNAPPLE HONDA
Third-generation racer captured a top-10 finish in eighth after starting today's Milwaukee IndyFest from the ninth position
"I don't know what to say; it was a frustrating eighth-place finish. I'm mad that I let (Scott) Dixon by at the end, it was just another twist of the knife. Frustrating day."
RYAN HUNTER-REAY
NO. 28 DHL HONDA
The 2014 Indianapolis 500 Champion began today's race from P16 and maneuvered his way up to the second position during the 250-mile race
Three-time Milwaukee Mile winner came to the twin checkers in 13th 
"We had a good race going in the DHL Honda. We tried for strategy and it didn't end up working out – just another day where nothing worked out. We lost three spots during the last stop, so it's certainly frustrating."
CARLOS MUÑOZ
NO. 26 ANDRETTITV / CINSAY HONDA
Series sophomore started today's race from the 18th position and was seen as high as P2
Colombian brought home his Honda-powered machine in the 15th position 
"Another race that didn't go our way. Before the last yellow we were running good in eighth and then people that had to pit, the yellow helped them, but it didn't help us. We had a bad stop and couldn't make up those positions… another up and down race for us."
JUSTIN WILSON
NO. 25 ANDRETTI AUTOSPORT HONDA
Englishman rolled off the grid from the 15th position and was at one point shown as the race leader
A wheel gun failure hindered the series veteran on his last pit stop and was ultimately forced to retire early due to a mechanical issue
"The car was working great, balance was fantastic; we were able to cut by people and exit on the inside, get really good runs off the corner. I was really pleased with the No. 25 Honda. We had a couple of things that didn't go our way – had a (tire) gun that failed on the pit stop, so we lost a lap there. A few laps later, something put us out of the race, I'm not sure what it is yet, but we just lost power and picked up a huge vibration. I just clutched it and turned the engine off. It's a tough day; I felt like we were good, we kept passing everyone and moving forwards, something would happen and then just kept moving our way back up to the front again, so it's just how it goes."