Firestone 600 at Texas Motor Speedway, Race Report
Firestone 600 at Texas Motor Speedway, Race Report
The ninth round of competition for the Verizon IndyCar Series went checkered under the lights of Texas Motor Speedway, seeing Marco Andretti as the highest-placing Honda and leading the way for Andretti Autosport. Credited with leading two laps in the 248-lap event, Andretti started from the 11th position and came away in fifth – his 38th career top-five finish.
Colombian Carlos Muñoz captured his first top-10 finish on the 1.455-mile oval coming to the twin checkers in the sixth position. The 23-year-old series sophomore was once the leader of the race, during pit stop sequences, but was not granted the leader position as he pit the same lap as the lead change occurred. He ran within the top seven a majority of the night.
The Texas night was not as kind to Ryan Hunter-Reay as the 2012 Verizon IndyCar Series Champion battled with handling issues all night. Coming in to the pits mid-race for a downforce adjustment, Hunter-Reay lost valuable track time from which the car was not able to recover. He recorded an 18th-place result. A highlight to the weekend, however, for the DHL crew was receiving the Firestone Pit Performance reward for their quick pit work in last weekend's Detroit Race Two.
The Series heads next to the street of Toronto for the Honda Indy Toronto on June 14. In the meantime, be sure to stay up to date on all things Andretti via AndrettiAutosport.com and@FollowAndretti.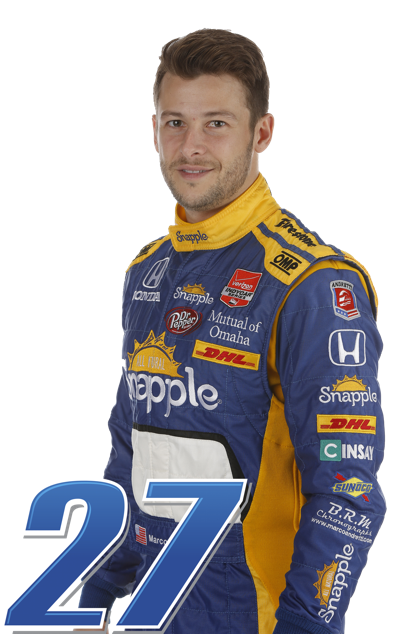 MARCO ANDRETTI
NO. 27 SNAPPLE HONDA
"We were sort of just hanging on to it tonight. Seemingly lacking a bit of grip and pace to the front runners, so we had to get the top five the way we did it. It was an awesome job by my Snapple guys. We just need to keep hanging in there, that's all we can do."
CARLOS MUÑOZ
NO. 26 ANDRETTITV / CINSAY HONDA
"I think I gave 100%, everything I could. We needed to save a little bit more fuel than the other guys – we did one less pit stop; it was hard to save fuel, so we lost some positions there. We finished sixth – a great position, and I think I did quite good with our stops and pushing hard. It was good for experience, another top 10, and now we're looking forward to Toronto."
RYAN HUNTER-REAY
NO. 28 DHL HONDA
"Unfortunately, I think there's something wrong with this car – it's the same one we had at Indy (Indianapolis Motor Speedway) – and we're going to 'kitchen sink it' as they call it, for the next oval race. We're just going to come back with a different tub, a different everything because it's not this difficult. There's no excuse for this… I'm just glad I brought it back in one piece – it was loose the whole night no matter what we did to it. Meanwhile, my teammates (Marco Andretti, Carlos Muñoz) were adding front wing the whole night trying to get the front to grip up…"