GRAND PRIX OF LONG BEACH, QUALIFYING REPORT
American racing champion Ryan Hunter-Reay led the way for Andretti Autosport at today's Qualifying session for the Grand Prix of Long Beach. Piloting his DHL machine, Hunter-Reay became the sole Honda advancing on to the Firestone Fast Six where he will start from the fourth position on tomorrows five-year anniversary of his first Long Beach IndyCar win (2010). Marco Andretti wheeled his No. 27 Honda into the second round of qualifying, recording a 10th-place start for tomorrow's 80-lap race, while teammate Carlos Muñoz will start from the 12th position.
Live race coverage from Long Beach will begin at 4 p.m. ET on NBC Sports Network with the Indy Lights time-delayed broadcast beginning at 3 p.m. ET.
RYAN HUNTER-REAY
NO. 28 DHL HONDA
"(Qualifying) was pressure-packed. We definitely put the goal out today to make the Firestone Fast Six – that, for us, was a pole today. We got in there and we got well within (the top six), so we're pretty happy about that. Tomorrow, for warmup, we're going to have to see how the No. 28 DHL is with race trim, but this is another step forward with this new Honda (aero) package, and I think it's obvious you can see it. Congrats to Helio (Castroneves) on the pole; I think he won the pole here back in '86 or something like that (haha)! No, no, like 13 years ago, but that's a testament to how talented he is. We're making steps on this Honda aero package, and I think we just keep chipping away at it like this and we'll be able to close that gap."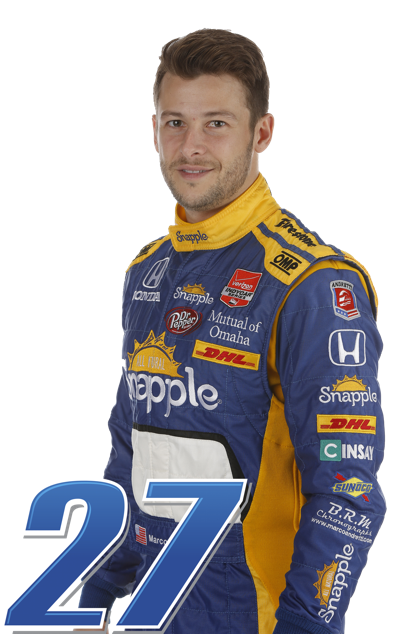 MARCO ANDRETTI
NO. 27 MERCHANT FIRST / SNAPPLE HONDA
"It was alright actually. I'm glad we did what we did – we saved some tires, so I have two new sets of (Firestone) reds for the race. We start 10th with two new sets of reds… I'd rather be there than even sixth (place) with no reds, so we're in a good spot for tomorrow."
CARLOS MUÑOZ
NO. 26 ANDRETTITV / CINSAY HONDA
"Qualifying, I think, went better than this morning's practice. Our main goal was to finish (qualifying) in the top 12; during qualifying we were thinking more about the race. We sit in 12th place for the start tomorrow… anything can happen."