GMR Grand Prix: Home comforts await Juncos Hollinger Racing
TEAM UPDATE 05 \\ 11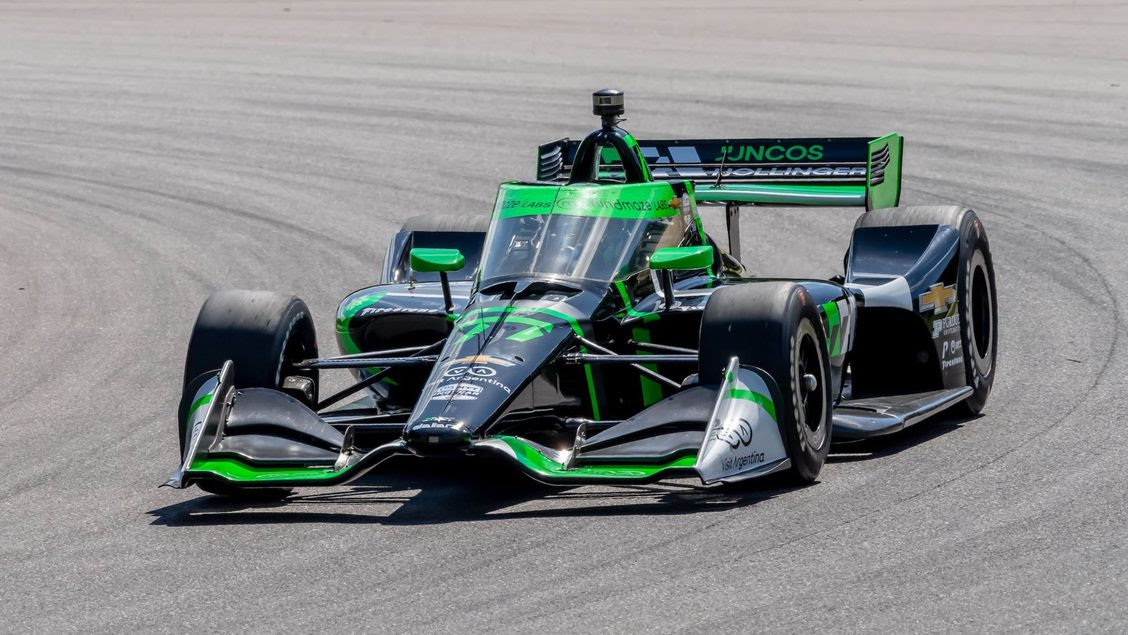 GMR Grand Prix: Home comforts await Juncos Hollinger Racing
An iconic month of racing begins at the Indianapolis Motor Speedway this weekend (May 12-13), as Juncos Hollinger Racing takes to the 'Brickyard' road course for round five of the NTT INDYCAR SERIES.
The GMR Grand Prix is the traditional precursor to the biggest race on the calendar and the next fixture to be held in JHR's home city during the month of May: the INDY 500 (May 28).
For this weekend, the team – which is based less than a mile from the Indianapolis Motor Speedway gates – will be hoping to repeat its form at last year's GMR Grand Prix.
Callum Ilott claimed an impressive P8 finish during the 2022 race, and the Briton arrives at this weekend's event fresh from a P13 result in his last road course race at Barber Motorsports Park.
For team-mate Canapino, the target will once again be to maintain his confident start to his debut INDYCAR season and to gain more valuable mileage and experience in America's premier open-wheel racing category.
The track configuration for this weekend's 85-lap race takes drivers down the front straight of the Indianapolis Motor Speedway, and through portions of Turns 1 and 2 before peeling off onto the circuit infield. Each lap measures 2.4 miles.
"Last year, this was a good weekend for us. We were very close to breaking into the Fast 6 during qualifying and started P7. It was my first wet race in INDYCAR and a totally new experience but it proved to be a strong race for us. We lost out a little bit on the strategy, but I think we're a lot stronger on that side this season. The field is so tight and the Indy road course is a place where you can't make a single mistake, especially in qualifying. I'm looking forward to the weekend and hopefully everything goes in the right direction."

"We are going into the weekend with the same objective as always, to continue accumulating experience and try to finish the race in the best possible position. Indy GP is a short track where there are usually very few differences between the drivers, so it will surely be a weekend where every tenth of a second is very valuable to gain positions. There is also a forecast of rain, so anything can happen."
"For me, we're entering a very special time in the season for racing at our home in Indianapolis. The Indy GP starts to give everyone a good vibe for the Indy 500 which will be happening next. Being only four blocks from the track, it feels like we're racing in our own back yard.
"Last year we showed a lot of speed with Callum during two races on the Indy road course so I'm looking forward to something similar this time. We've developed a very good race car so far this year and, as a team, we continue to evolve our protocols, pit stops, and strategies to keep improving. For Agustín, it's another new track but I think he's going to have more of an advantage this weekend because the road course is like the tracks he's raced on before in Argentina.
"Finally, I want to thank every member of the Juncos Hollinger family that continues to put in so much effort and many, many hours to make sure everything is perfect for the races. It's a real team effort and it makes me so proud to see everyone pushing in the same direction.
"This weekend we welcome Rasmus Lindh to our INDY NXT line up. We almost won the PRO Mazda championship with him in 2019 and he raced with us at the final three Indy Lights races in 2021. He's a very fast and talented driver and we're looking forward to having him join Matteo Nannini in our team. After a couple of difficult races this season, I'm hoping our INDY NXT guys can shine and show what we can do."