FRIDAY, FEBRUARY 25 – SUNDAY, FEBRUARY 27, 2022
TRACK LAYOUT: 1.8-mile, 14-turn street circuit
RACE LENGTH: 100 laps
PRACTICE: Friday – 3:40-4:25 p.m. ET (Peacock Premium)Saturday – 9-9:45 a.m. ET (Peacock Premium)Sunday – 8:45-9:15 a.m. ET (Peacock Premium)
QUALIFYING: Saturday – 12:30-1:45 p.m. ET (Peacock Premium)
RACE: Sunday – 12:30 p.m. ET (NBC, 12 p.m. ET)
Ed Carpenter Racing's 11th season of NTT INDYCAR SERIES competition comes with with unparalleled consistency. For the third consecutive year, the team will have the same driver lineup. Conor Daly has been elevated to the full-time driver of the No. 20 Chevrolet and Rinus VeeKay continues in the No. 21 Chevrolet. Team owner Ed Carpenter will round out ECR's three-car lineup for the Indianapolis 500.
ECR is led by Carpenter, the only individual in the NTT INDYCAR SERIES who handles both the responsibility of driving the racecar and owning his own team. As one of the most experienced drivers in the field, 2022 will be Carpenter's 20th season of Indy car competition. He solidified his status as a hometown favorite when he scored back-to-back pole positions for the Indianapolis 500 in 2013 and 2014, then again in 2018.
Day-to-day operations at ECR remain under the direction of team president Tim Broyles and chief mechanic Bret Schmitt. Pete Craik continues as lead engineer for the No. 20 with Jeff Grahn as crew chief. On the No. 21, ECR chief engineer Matt Barnes serves as VeeKay's lead engineer and Jeff Frederick as crew chief. Strategists will again be Brent "Woody" Harvey for VeeKay and Broyles for the No. 20 car, a position he has held since ECR's first race in 2012. Nearly a dozen of the team's 40 employees are original hires, including Broyles, Schmitt, Barnes and Harvey.
CONOR DALY, NO. 20 BITNILE CHEVROLET
CONOR DALY, No. 20 BitNile Chevrolet: 
"St. Petersburg marks the start of an incredible new partnership and a new adventure with BitNile and our friends at Earnity and TurnOnGreen. Having had a nice test at Sebring last week, I feel very, very excited about it. St. Pete is one of the best possible places to start off the season! I know Ed Carpenter Racing has been working hard over the offseason to show up competitive. I can't wait!"
OF NOTE:
Conor Daly has returned to Ed Carpenter Racing for a third season, but first as full-time driver of the No. 20 BitNile Chevrolet. The 2022 NTT INDYCAR SERIES season will be Daly's first with one team since 2017. For the past two seasons, Daly split his talents: for the road and street course events and the Indianapolis 500, Daly raced for ECR; for the remaining oval events, he drove for Carlin.
Over the past eight years, the Noblesville, Ind., native has competed in 80 NTT INDYCAR SERIES races. The 2021 Indianapolis 500 proved a career highlight for the hometown favorite as he paced the field for nearly a quarter of the race, leading the most laps of all drivers.
Daly has competed in the Firestone Grand Prix of St. Petersburg four times, leading the race for 16 laps during his first event in 2016. In 2021, Daly qualified 19th and finished 16th.
BitNile Holdings, Inc. has joined ECR to serve as primary partner for the No. 20 Chevrolet in a multi-year deal. The diversified holding company specialized in disruptive technologies, including cryptocurrencies and innovations in the field of Decentralized Finance ("DeFi"). BitNile focuses on large-scale crypto mining with energy-efficient, powerful operations strategically located in North America.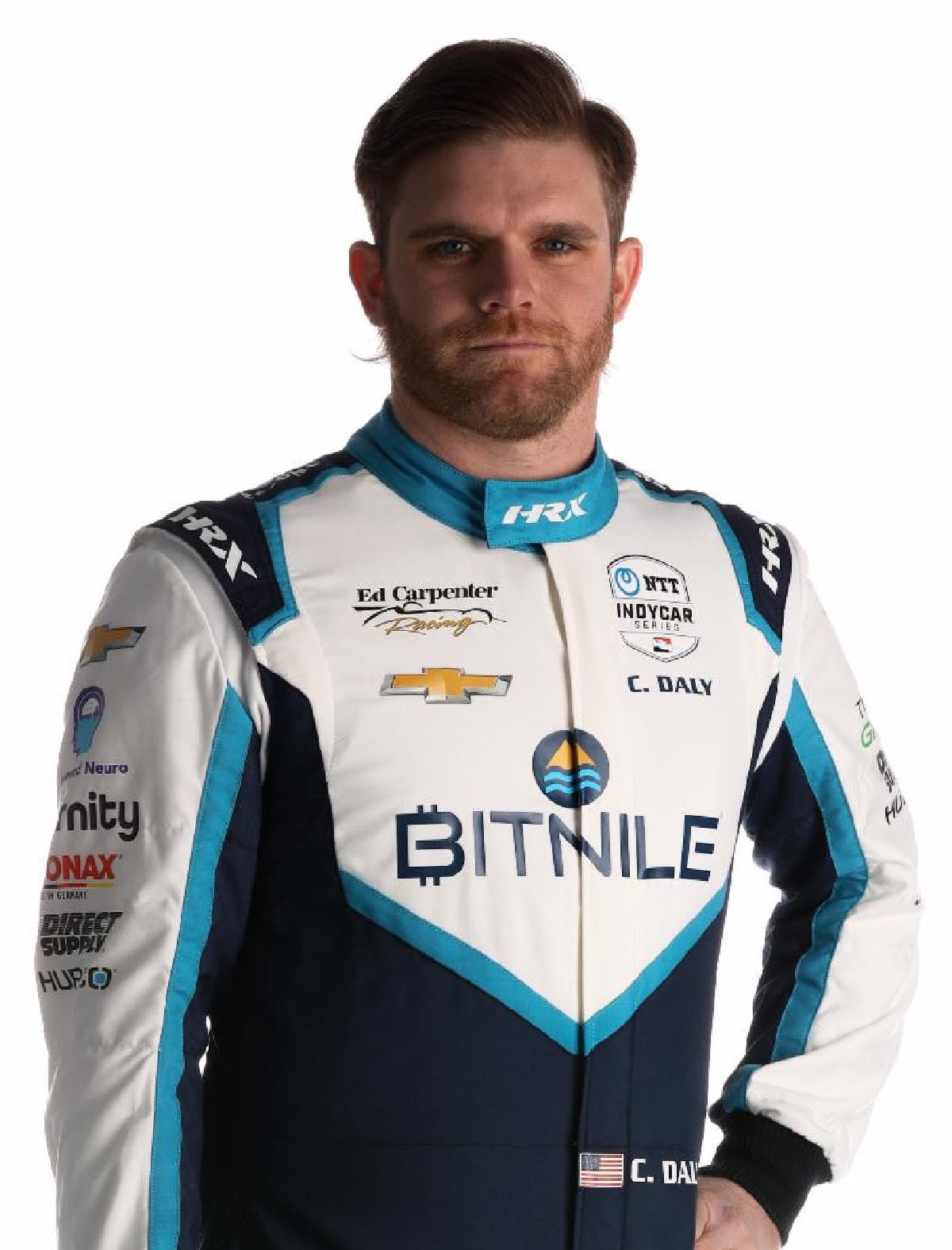 BIRTHDAY: December 11, 1990
HOMETOWN: Noblesville, IN
RESIDENCE: Indianapolis, IN
SEASON: 9th
STARTS: 80
POLES: 1
BEST FINISH: 2nd, Detroit 2016
RINUS VEEKAY, NO. 21 SONAX CHEVROLET
RINUS VEEKAY, No. 21 SONAX Chevrolet: 
"I am very excited to go to St. Petersburg again and begin my third season in the NTT INDYCAR SERIES! I am just so happy to start driving again, get back in the rhythm and show how much Ed Carpenter Racing has improved over the offseason. We had a great Sebring test, we have made some really good changes for this year."

BIRTHDAY: September 11, 2000
HOMETOWN:Hoofddorp, Netherlands
RESIDENCE:Fort Lauderdale, FL
SEASON: 3rdSTARTS: 29
WINS: 1
POLES: 1
OF NOTE:
Rinus VeeKay will drive Ed Carpenter Racing's No. 21 Chevrolet for a third straight season, making him the longest-tenured full-time driver in the team's history. VeeKay joined ECR following a rapid ascent through the Road to Indy ranks which included 16 wins and 36 podiums in 48 races.
VeeKay has already built an impressive resume in only two years as an NTT INDYCAR SERIES driver. In addition to the 2020 Rookie of the Year title, his debut season included his first pole position and first podium finish. His second season saw him join the ranks of race winners by earning his first career victory in the GMR Grand Prix at the Indianapolis Motor Speedway road course. In 2020, he recorded the best qualifying result by a teenager in Indianapolis 500 history by starting 4th; in 2021, he qualified 3rd and became the youngest front row starter in "500" history.
Of his two starts in the streets of St. Petersburg, last year's edition yielded a Top 10 for VeeKay when he finished 9th. It was also his best qualifying result as he started 7th, narrowly missing out on transferring to the Firestone Fast 6.
Longtime ECR partner SONAX will be featured on the No. 21 Chevrolet in St. Petersburg. SONAX Car Care is an innovative manufacturer of premium car care products for optimum maintenance, protection and rejuvenation of vehicles. All products are developed and manufactured in Neuburg, Germany, where SONAX was founded over 50 years ago. Today, the brand is represented in 80 countries around the world and is available in the U.S. through car care superstore Autogeek.com