Barber Motorsports Park Date: Sunday, April 18 
Round: 1/17 
Race laps: 90 
Total race distance: 214.2 miles/344.72 km 
Length: 2.38miles/3.83 km 
Number of turns: 17

Pato O'Ward and Felix Rosenqvist started on opposite ends of the grid for the Indy Grand Prix of Alabama at Barber Motorsports Park. Pato was postioned on pole, while Felix was in toward the back in 22nd after an incident in qualifying.Felix got caught in a pile-up early, being taken out by an unavoidalbe crash on Lap 1. The team was able to repair the car and get it back out, but the Swedish driver was already multiple laps down. However, the No. 7 Vuse Arrow McLaren SP Chevrolet team was able to put down some valuable laps and elevate their finish in the standings. 
Pato had a great start to the race, keeping the lead over a charging Alexander Rossi. After the early yellow flags, the decision came down to two stops versus three stops in the race. O'Ward and the No. 5 Arrow McLaren SP team elected for three stops, going for speed over fuel saving. The decision worked well for the team, until later in the race, when Pato was forced to chase down the two stoppers. Both drivers are looking forward another shot in just a week's time on the Streets of St.Petersburg, Sunday April 25th.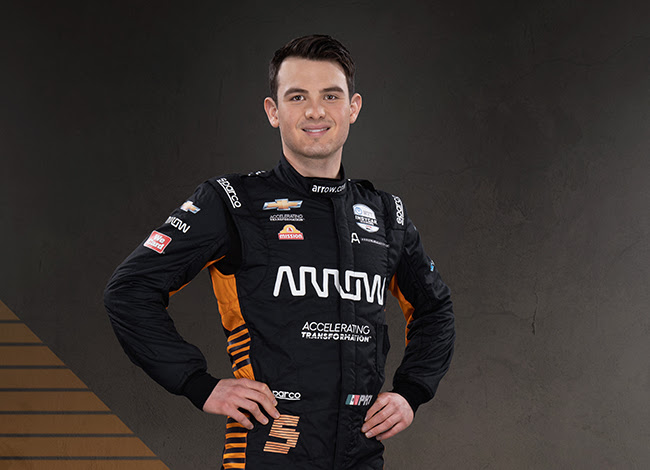 Pato O'Ward – No. 5 Arrow McLaren SP Chevrolet
Starting Position : 1st
Final Result: 4th 
"We were the fastest car here all weekend. We were the fastest car on the racetrack during the race. But unfortunately, we were just on the wrong strategy. We went on a three-stopper to cover for Rossi and unfortunately, track position was everything. When I caught up to the lead pack in the end, there weren't many laps to go. We got stuck there the last 1-2 laps and brought home fourth. It's good points for the championship, but we have to maintain the consistency. Our first win will have to wait, hopefully at St. Pete. We will be ready to fight there."
Felix Rosenqvist – No. 7 Vuse Arrow McLaren SP Chevrolet
Starting Position: 22nd
Final Result: 21st "Tough first race here at Barber Motorsports Park. I only did one corner and got sucked into the big pile up in the back stretch. With Josef spinning around and then getting trapped into a corner, I couldn't go anywhere. Race was pretty much over at that moment. Big thanks to the guys for putting it back together and allowing us to do some laps afterward and feel it out. It was kind of weird to drive after that but it was good to do a few laps and get something out of it. We'll bounce back in St. Peterburg. It's nice to have another race next weekend so we can forget this one."
Taylor Kiel – President, Arrow McLaren SP
"It was a crazy race. Going into the race, the two-stop strategy seemed very far away. But obviously with the way it started, with the chaos at the beginning, the two-stopper came into play. We had an issue with a tire going down going through some debris. We took an opportunity there to cover Rossi and get those tires off, go to blacks and run an aggressive three-stopper. It worked for us certainly in terms of the three-stopper, but unfortunately the guys on the two-stopper ended up just in front of us. All in all, it was a good day. I think there is a lot to be proud of, certainly P4 is a great way to start the season. There is a long way to go. Really proud of the effort on the No. 7 car getting Felix back out and salvaging some valuable points. All-in-all there's a lot to be proud of leaving this and weekend and a strong start for Arrow McLaren SP going into St. Pete and the rest of the year. Good day."