ABC Supply Co. Wisconsin 250, Practice Report
The Milwaukee IndyFest weekend kicked off today with the first practice session for tomorrow'sABC Supply Co. Wisconsin 250 presented by Metro Milwaukee Honda Dealers. With four cars on track this weekend, Andretti's Verizon IndyCar Series team of Ryan Hunter-Reay, Carlos Muñoz, Justin Wilson and Marco Andretti came away from practice P7, P14, P16 and P23, respectively.
Live TV coverage of the ABC Supply Co. Wisconsin 250 qualifying session can be found on NBC Sports Network at 4 p.m. ET Sunday, with the live race broadcast immediately following at 5 p.m. ET. For radio coverage, Verizon IndyCar Series qualifying and races are broadcast live on network affiliates, Sirius 212, XM 209, IndyCar.com, indycarradio.com and on the INDYCAR 15 app. Stay up to date on all things Andretti via AndrettiAutosport.com and@FollowAndretti.
RYAN HUNTER-REAY
NO. 28 DHL HONDA
Three-time Verizon IndyCar Series winner at The Milwaukee Mile (2004, 2012, 2013)
Currently sits 14th in the championship points standings
"It was the first time on the short oval with the new aero kit, and we struggled with the balance. We just had to keep after the front grip — the front of the car is not loaded enough right now, so we'll work on it tonight and hopefully come up with some solutions for tomorrow. We ended up in the top 10, we were seventh, and that's a good start so far. Usually our first outing at The Milwaukee Mile though we're up front, so we've got some work to do."
CARLOS MUÑOZ
NO. 26 ANDRETTITV / CINSAY HONDA
Sits 12th in the championship points standings with four top-10 finishes and one win this season

Tomorrow's

250 lap race will mark the Colombian's second Verizon IndyCar Series career start at The Mile
"I think we have to work overnight a lot for tomorrow. Tomorrow is going to be a really packed day, you know, with qualifying, practice and race all in one day. We just have to try to work hard and improve a little bit. Everyone is really close (on the speed chart) on this kind of track so we have to work at it and see what kind of car we have tomorrow."
JUSTIN WILSON
NO. 25 ANDRETTI AUTOSPORT HONDA
Returns to the No. 25 Honda for the last five races of the 2015 season, last ran with Andretti's IndyCar effort at the 2015 Indianapolis 500
Holds nine Verizon IndyCar Series career starts at The Milwaukee Mile with a best finish of second in 2006
"It's good to be back in the car. We just have the one session today to feel everything out, obviously lots to work on. We had a slight issue with getting telemetry on the car, so it limited the amount of track time we actually got. There's lots to think about overnight and come back and hopefully be stronger tomorrow. I'm just pleased to be back."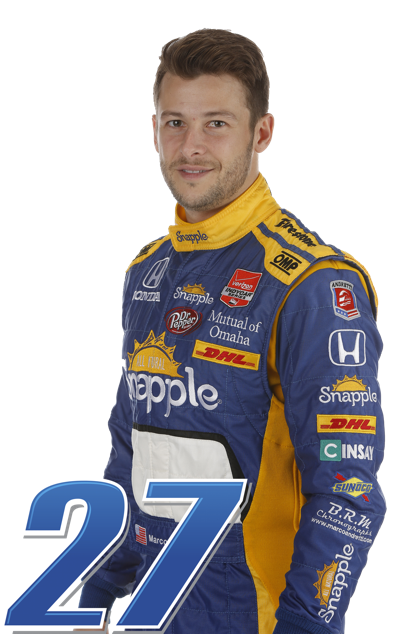 MARCO ANDRETTI
NO. 27 SNAPPLE HONDA
Two-time pole sitter at The Milwaukee Mile, including his first career pole position (2008)
Holds a career best finish of sixth in Milwaukee (2006)
"We had way too much understeer today, but the rear (of the car) is not good — we're just battling too many things right now to be happy. We'll work through it and hope to make advancements tomorrow."