MAVTV 500, Race Report

The California sunshine brought highs and lows in a nail-biting 500-mile race at Auto Club Speedway. All three Andretti Autosport drivers were shown as race leaders in today's MAVTV 500. The 250-lap event set a new all-time record for lead changes with 80 passes for P1.

Marco Andretti kept his 27 car close to the front for the majority of Saturday's race, leading 31 laps on his was to third place. The 28-year-old took a new set of Firestone tires immediately following the red flag with just five laps remaining which brought him to the green near the back of the field for the final restart for a shoot-out march to the front. Today's finish marked Andretti's 20th career podium.

Carlos Muñoz started from the 11th position and suffered front wing damage early in the race causing the Colombian to battle handling issues until the first caution came out just over the race's half-way point. Muñoz gained 15 positions on the restart to take the lead before the race saw a second yellow flag. Rear-wheel guard damage forced the AndrettiTV driver to again make an unexpected pit stop; the 23-year-old recorded a 12th-place result.
After starting from 14th and fighting his way to the front of the pack late in the race,Ryan Hunter-Reay also came into the pits on his way to the final restart and was working with teammate Andretti to get to the front. As he quickly advanced through the field, the No. 28 was pinched into a collision, ending the day one lap short of the checkered. The DHL car recorded a 16th-place finish after running as high as the first position today. The American's three laps led marked the first race lead of the season for the 2014 Indy 500 Champion.
The Verizon IndyCar Series will take a weekend off as our crews celebrate Independence Day with their families. The series will next head to The Milwaukee Mile for Andretti Sports Marketing's Milwaukee IndyFest on July 12. Stay up to date on all things Andretti via AndrettiAutosport.com and @FollowAndretti.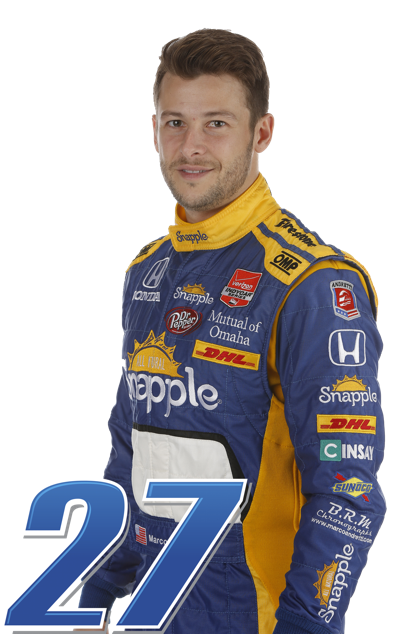 MARCO ANDRETTI
NO. 27 DR PEPPER HONDA
"Today was an awesome comeback for the No. 27 guys. I just got caught out – I should have known (Rahal) was going to (go low on the track), he always does that. I thought we were going to have the chance to do it outright; that was the first Honda win to do it outright, but hopefully we're closing the gap. We just have to keep pushing. It's not a bad thing when you are a little disappointed with a third-place finish."
CARLOS MUÑOZ
NO. 26 ANDRETTITV / CINSAY HONDA
"Today was a really up and down race. The first half of the race we had a broken front wing, and then after we changed that, I was able to lead some laps. We got hit in the rear, and after that the car wasn't the same. I struggled a lot the last two stints; it was a hard race for sure. Now we'll change our mindset and think about the short ovals."
RYAN HUNTER-REAY
NO. 28 DHL HONDA
"I wasn't expecting (Juan Pablo) Montoya to come up; he had a lane on the inside, and I was sitting next to… I'm not sure who it was, just waiting to go thru Turn 1 and Montoya came right up. It's tough – it was pack racing, it was crazy out there. I didn't have anywhere to go (after getting hit), I'm just glad Ryan's (Briscoe) okay – that was a nasty hit and it could have been a lot worse. One lap to go, figures we couldn't make it to the finish. It was looking like a good finish for the No. 28 DHL team; we turned some things around and hopefully we can do it again at Milwaukee."