Andretti Autosport Honda Indy Toronto, Race Report

Honda Indy Toronto, Race Report

For the better half of today's Honda Indy Toronto, it seemed things were looking up for the Andretti Autosport Verizon IndyCar Series squad. The trio all settled in early on and Carlos Muñoz, who was fastest in the morning warmup, was seen as high as P2 before a mechanical issue brought the No. 26 to its early retirement on Lap 69. Meanwhile teammate Ryan Hunter-Reay was battling rear brake issues the entire race until their failure occurred with one lap to go bringing the 2012 Verizon IndyCar Series Champion into pit lane listed in P19. Third-generation racer Marco Andretti brought home the Dr Pepper Honda in the 13th position after a solid race on the 1.755-mile street circuit in the heart of Toronto.
Next up for the Indianapolis-based team is the MAVTV 500 at Auto Club Speedway in Southern California on June 27. Stay up to date on all things Andretti via AndrettiAutosport.com and@FollowAndretti.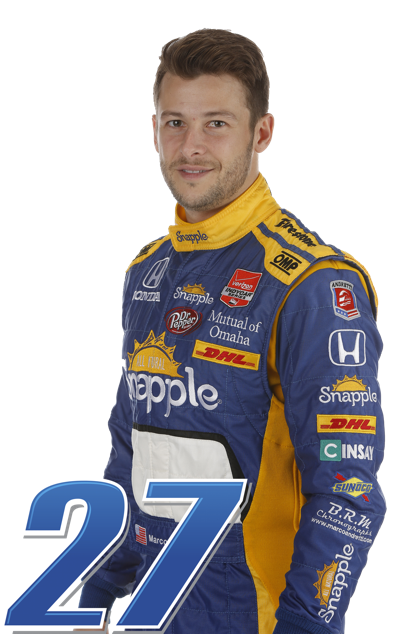 MARCO ANDRETTI
NO. 27 DR PEPPER HONDA
"We kind of had an intermediate setup on. I think if we had a dry setup on, and went to the (Firestone primary tire) blacks at the end, it would have been the way to go. The (Firestone alternate tire) reds were gone halfway through that stint, I started to fall off (Simon) Pagenaud and there was nothing I could do to hang on to the rear of the Dr Pepper car. We're heading back to an oval with Fontana, so we'll see what we can do there."
RYAN HUNTER-REAY
NO. 28 DHL HONDA
"Right rear brake issues the whole race, slowly but surely just kept losing rear brake pressure until it finally went completely. I had no rear brake pressure at all and had to pull it in with one lap from the end. Wish we could have brought home a better result in the No. 28 DHL."
CARLOS MUÑOZ
NO. 26 ANDRETTITV / CINSAY HONDA
"Again, mechanical issues that ended our race. We were having a great race; I was fourth before everything, and I think we had the speed to finish in that position or to fight for the podium. Once again, something out of the team and my hands – it's racing. We really need to check to see why this is happening but we put our heads down and head to Fontana."