Andretti Autosport Verizon IndyCar Series Honda Indy Toronto, Qualifying Report

Honda Indy Toronto, Qualifying Report

Qualifying for the Honda Indy Toronto has gone checkered with circumstance not being on the side of the Andretti Autosport trio of Verizon IndyCar Series drivers.
Carlos Muñoz was the lone Andretti driver in the first qualifying group and turned a fast time of 1:00.6849, placing P7 in his group leaving the Colombian to line up 13th* on the grid tomorrow.
Ryan Hunter-Reay and Marco Andretti both took the track in Group Two but lost out on valuable track opportunity after a competitor made contract with the wall and brought out the red flag with just minutes to go in the session. Missing out on advancing from Round One of qualifying, Hunter-Reay and Andretti will line up 16th* and 18th*, respectively.
Live TV coverage of the Honda Indy Toronto can be found on NBC Sports Network at 3 p.m. ETSunday. For radio coverage, Verizon IndyCar Series races are broadcast live on network affiliates, Sirius 212, XM 209, IndyCar.com, indycarradio.com and on the INDYCAR 15 app. Stay up to date on all things Andretti via AndrettiAutosport.com and @FollowAndretti.
*results are unofficial
CARLOS MUÑOZ
NO. 26 ANDRETTITV / CINSAY HONDA
"Again, it was a really weird qualifying session with all the yellow flags. We had some issues in the first part of our qualifying, so had to give a shot from our second time out; we're starting 13th tomorrow. We've been struggling a little bit this weekend, so let's hope for some rain tomorrow and a bit of a crazy race, because to go to the front, we need something…"
RYAN HUNTER-REAY
NO. 28 DHL HONDA
"It's kind of just been the way this season has been rolling… but we're proud to be representing DHL here and looking for a good weekend. I thought we had a good shot at advancing there — the car felt good. I just never really got a lap to bank and then the red (flag) came out as we just put on new (Firestone) red tires. It's the way it is sometime; you just have to deal with it and keep soldering on. We're going to go out and hopefully have a great race tomorrow."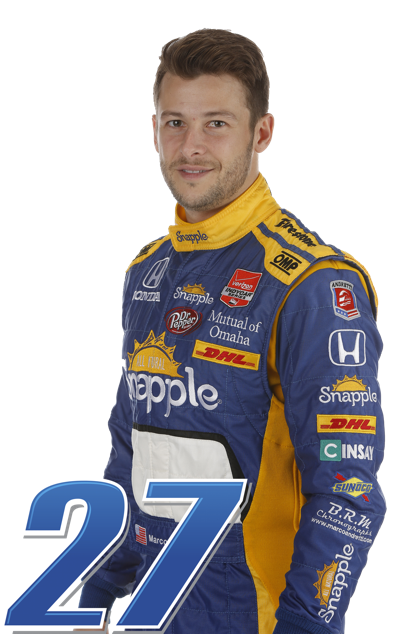 MARCO ANDRETTI
NO. 27 DR PEPPER HONDA
"Circumstance didn't go our way… we didn't get to do a full run on reds (alternate Firestone red tires) due to the red flag. My out lap on reds was awesome so I think the Dr Pepper car would have been well in the top 10 — maybe in the Firestone Fast Six."