Dual in Detroit, Race Two Report
Dual in Detroit, Race Two Report
It was a cold and soggy day in the Motor City for Race Two of the doubleheader weekend. Todays second half of the Dual in Detroit saw a starting grid determined by entrant points due to the morning's qualifying session being canceled for inclement weather which lined up Andretti Autosport's trio of drivers in 7th (Marco Andretti), 11th (Carlos Muñoz) and 14th (Ryan Hunter-Reay).
Action kicked off as scheduled on the 2.35-mile circuit with Muñoz gaining six positions in just three laps, to move into fifth place before suffering a mechanical issue forcing the Dual One race winner's early retirement.
Light rain continued early in the race setting a sequence of strategies in motion across the 23-car field. Andretti was among the first cars to pit for racing slicks but fell back in the field due to an untimely caution flag. Making his way back to the lead lap, the third-generation racer was on his way to a potential podium finish, just needing green flag conditions for the final stint. A series of yellow flags brought Andretti home with a top-five finish.
Taking a slightly different strategy, teammate Hunter-Reay held on to his racing wet tires longer than a majority of the field, leaving him running as high as second place. A string of yellow flags and shuffling strategies pushed the American back to P13. Making his way back up, Hunter-Reay came away with an eighth-place finish.
From here the team will head west for Round Nine of competition at Texas Motor Speedway onJune 6. In the meantime, be sure to keep up to date on all things Andretti by following the team's official Twitter account @FollowAndretti or stopping by AndrettiAutosport.com.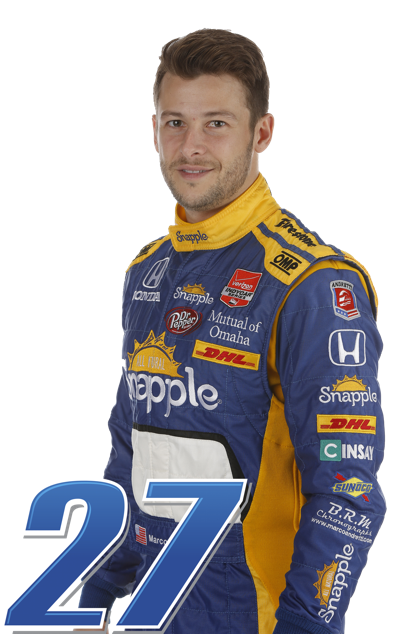 MARCO ANDRETTI
NO. 27 MERCHANT FIRST / SNAPPLE HONDA
"Decent weekend for points. We really lost the back end (of the car) — we were struggling there but we salvaged what we could. I really wish we could have gotten (Tristan) Vautier though. In the end, we'll take a podium and a top-five… a few more laps of green (flag conditions) at the end of today would have gone a long way for us."
RYAN HUNTER-REAY
NO. 28 DHL HONDA
"Not a fantastic weekend. Good to come away inside the top 10, but still not pleased. We stayed out on the wet tires which could have worked in our favor, but the flags didn't fall our way… and I couldn't gain enough on track. We settled into eighth but hope for more for the DHL Honda in Texas."
CARLOS MUÑOZ
NO. 26 ANDRETTITV / CINSAY HONDA
"I think I had a couple of good first few laps – I went from 11th to fifth, and I was catching (Scott) Dixon… I suddenly lost power and I saw smoke in the rear; we aren't sure what happened. We got the win yesterday, and it's a shame we can't finish a great weekend. I think we were looking really good, but this is racing. We'll just concentrate and look ahead to Texas next weekend."