99th Running of the Indianapolis 500, Qualifying Report

JUSTIN WILSON
NO. 25 ANDRETTI AUTOSPORT HONDA
Leading the way for Honda, Wilson will start from the outside of the second row for his eighth career Indianapolis 500 start. The 36-year-old turned a four-lap average of 225.279 mph. 
"I was pushing really hard and it felt pretty good. It was a little bit tense the last couple of days, but it's always nice to get out and run on your own with no one else on track, there is always more grip. Andretti Autosport is a very professional team, they just worked through all the decisions that were made today and gave me a great race car. I just have to thank everyone there who has worked so hard the last few months to put this deal together. It was a difficult decision that was made for all the teams and when something like that happens you have to react. I also want to thank everyone a Honda for letting me have the opportunity to be here. I'm hoping today's qualifying run is a good omen going into next weekend, we'll see how it all works out, looking forward to bringing a decent result home."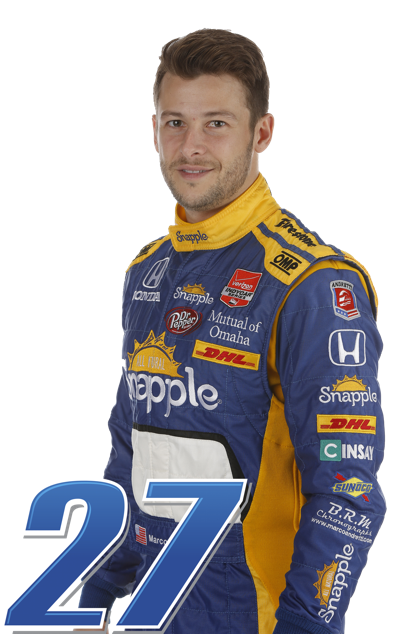 MARCO ANDRETTI
NO. 27 SNAPPLE HONDA
Making his 10th career Indianapolis 500 start, Andretti will line up in the middle of Row Three behind the wheel of the Snapple Honda.
"It's hard to smile before your four laps are done. There so much unexpected stuff that comes your way, but I think we adapted the best we could — especially with the last minute rule changes. We knew Justin (Wilson) had a quick car all along, so we didn't know if we could beat him, but if the car is as good as it was in race trim I think we'll be really tough."
CARLOS MUÑOZ
NO. 26 ANDRETTITV / CINSAY HONDA
The 2013 Indianapolis 500 Rookie of the Year will start his third 500-mile race from the middle of Row Four. 
"I think we knew before going into qualifying that this is where we were going to be; we are focusing on the race. During practice, our car was feeling great in traffic, so we'll see howtomorrow's practice goes. Ryan (Hunter-Reay) won the 500 last year starting 19th, so… Of course it's nice to have the big check like my first Indy 500 when I qualified second and it's always nice starting from the front row, but the race is what matters and we'll work hard for next Sunday."


RYAN HUNTER-REAY
NO. 28 DHL HONDA
The defending Indianapolis 500 Champion will make his race start from the 16th position. Hunter-Reay started 19th in 2014 and came away from the 500-mile race with his first career Indy 500 victory.
"The wind was moving the car around quite a bit and we haven't run on this trim since we've been here at IMS, so it was new this morning. Everyone was shaking out some stuff they haven't tried today. But I'm just worried about the race — we wanted to stay inside the top 20… we started 19th last year and that turned out ok."
SIMONA DE SILVESTRO
NO. 29 TE CONNECTIVITY HONDA
The TE Connectivity driver made her Indianapolis return official today by qualifying in the seventh row for Sunday's 99th Running of the Indianapolis 500.
"It was an okay run – I thought we would be a little bit quicker. It seemed we didn't gain any speed on the straightaways, so we'll look into that. It's okay, it's qualifying…for sure we would have liked to be up front but the race is the important part. We have a great chance in our TE Connectivity car with Andretti Autosport, and hopefully as a team we can have a really good result at the end of the month."