HONDA INDY GRAND PRIX OF ALABAMA, RACE REPORT
Today's Honda Indy Grand Prix of Alabama proved to be a roller coaster ride similar to the track's 2.3-mile, 17-turn layout. Two-time Barber race winner Ryan Hunter-Reay brought home the DHL Honda in fifth, in addition to securing the fastest lap of the race, after starting from the 18th grid position. Series sophomore Carlos Muñoz gained 16 positions to come to the twin checkers in sixth place following a start from P22, while third-generation racer Marco Andretti captured another top-10 finish for the trio in P10.
The Andretti Autosport squad will next compete at the Grand Prix of IndianapolisSaturday, May 9 at Indianapolis Motor Speedway, and will be joined by series veteran Justin Wilson who will pilot the No. 25 Honda.
RYAN HUNTER-REAY
NO. 28 DHL HONDA
"I think that (P5) was as good as we were going to get today. We really worked hard on saving fuel – we had to have a lot of discipline there to pull it off. Some guys pitted a little later than us, they were able to go a little heavier, a little harder, so we missed out on the podium because of that. All in all a pretty good day for the DHL Honda."
CARLOS MUÑOZ
NO. 26 ANDRETTITV / CINSAY HONDA
"I think sixth for me is like a victory today. I mean I always want to win, but this sixth feels so good because of how we started the weekend. Starting 22nd at Barber (Motorsports Park), it is really hard to make your way to the front. My team did a great job – in pit stops, in strategy. I think I did a great job at saving fuel; I'm more or less a rookie at saving fuel, but I think now I have my 'saving fuel degree' from university (haha). Now I'm looking forward to the next one."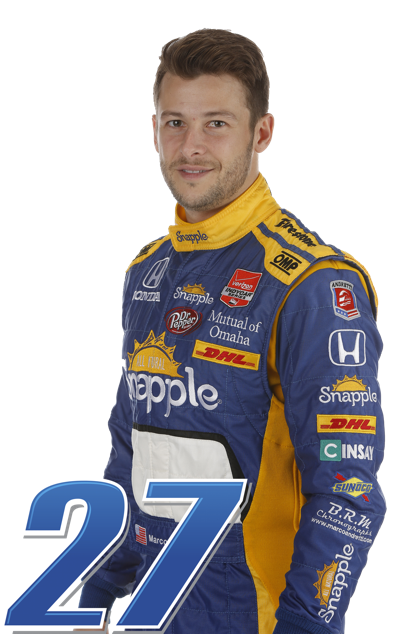 MARCO ANDRETTI
NO. 27 MERCHANT FIRST / SNAPPLE HONDA
"I lost too much time early in the stint to (Scott) Dixon and Ryan (Hunter-Reay); I had a go at Dixon… I got pushed off the track, so we lost a lot of track position. I lost a lot of time, really, in that stint trying to conserve (fuel). I need to get better at managing, but we were losing the rear tires, so it was a real struggle."