2021 Genesys 300 Arrow McLaren SP Race Report
Texas Motor Speedway 
Date: Saturday, May 1 & Sunday, May 2 
Rounds: 3&4/17 
Race laps:
Race One: 212 laps
Race Two: 248 laps
Total race distance:
Race One: 300 miles/482.8 km
Race Two: 375 miles/597.7 km 
Length: 1.5 miles/2.41 km 
Number of turns: 4 
Remaining session start times: 
Green Flag, Race Two: Sunday, 5:15 p.m ET

Recap: After a day of schedule changes at the Texas Motor Speedway, the NTT INDYCAR SERIES decided to forgo qualifying and move the Genesys 300 up by 30 minutes to avoid potential weather. The schedule change allowed an hour and half practice but caused all drivers to use their current championship standing as starting positions. This had the No 5. Arrow McLaren SP Chevrolet of Pato O'Ward starting in 11th and the No. 7 Vuse Arrow McLaren SP of Felix Rosenqvist starting in 18th. 
Pato opted for an early pit stop that left him leaving pit lane under an unexpected yellow flag, pushing him back in the field. Felix was able to take his first stop during the yellow, which allowed him to gain position and move up to 12th. 
Just past halfway in the race, both Arrow McLaren SP drivers elected to take a bold strategy, stopping earlier than the rest of the field to try and gain position. The move paid off for both drivers, eventually moving Felix up to 2nd and Pato to 5th. 
A late caution brought the entire field into the pits for their last stop at the same time, bringing everyone onto the same strategy. Pato was able to leave pit lane in third place, while Felix came out in 12th after a difficult stop. Pato took a look at second place on the restart but eventually settled into third and a strong finish. Felix eventually finished in 13th.  
Arrow McLaren SP moves on to Race Two of the Texas Motor Speedway doubleheader tomorrow. Tune in to NBCSN at 5:00 p.m. ET on Sunday, May 2 for Race Two.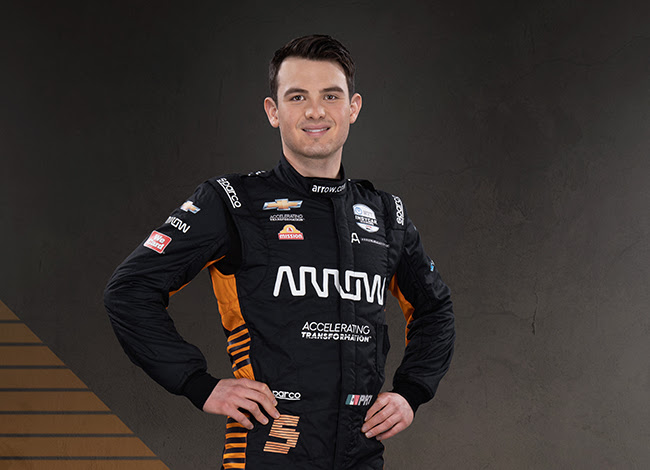 Pato O'Ward – No. 5 Arrow McLaren SP Chevrolet
Starting position: 11th
Finishing position: 3rd
Championship position: 4th, 80 points 
"I knew that we had such a fast car, especially by ourselves. I knew we could get in clear air and we could really make up some track positions. In the beginning, we were just very stuck in the train. It was very tough to pass, but what a great race car. We're ready for tomorrow. I want to thank Arrow Electronics, Vuse, Team Chevy and the No. 5 Arrow McLaren SP team. This is a good step in the right direction. There's a couple more positions we want to get but this should put us in a better starting position tomorrow than where we started today. We bounced back after a pretty tough weekend in St. Pete. We want to come back tomorrow and try to go better, and  roll into the Month of May for the GMR Grand Prix and then the crown jewel of the schedule, the Indianapolis 500.  I didn't have anything for McLaughlin and Dixon, congrats to them both. They were very quick but I didn't want to risk anything. I started getting a little wiggly, and we were getting some temperature issues, so I said 'Let's take this', come back tomorrow and see what we got."
Felix Rosenqvist – No. 7 Vuse Arrow McLaren SP Chevrolet
Started position: 18th
Finishing position: 13th
Championship position: 16th, 44 points 
"Finished our first race here at Texas Motor Speedway finishing 13th, which is disappointing because we were actually P2 for a good amount of the race. Going into the final pit stop, we were second place. I did a bad job lining up my car in the pit stall and then, the No. 8 car was coming out of the pit in front of me and he lost his wheel. I had to go in the grass, and we lost about ten positions. I think we had a better car at the end than we did in the beginning. So we will be better off tomorrow and should get some cars in the first couple stints. It was good fun today, but a shame we didn't get the podium."
Taylor Kiel – President, Arrow McLaren SP
"We had a very exciting race, no doubt about it. Especially, on the No 5 Arrow McLaren SP car. We took a very aggressive approach and it worked out for us. I'm very proud we were able to do that and move forward because it is very hard to pass here. We're very disappointed and heartbroken for Felix because I think he had a great car. He was battling for the win and we just didn't execute on that last stop. Luckily, we have another chance tomorrow to redeem ourselves and I'm looking forward to it. We have two strong cars, a strong team and we are going to go for it."