Honda Indy 200, Race Report
Today's Honda Indy 200 was a duel for best strategy as teams battled it out with off-sequence pit stops and working their way around the four caution periods, totaling 16 laps of yellow-flag racing. Eventual second-place finisher Justin Wilson came away with six laps led after rolling off the grid from the 14th position while 2015 Iowa Corn 300 winner Ryan Hunter-Reay clinched a P7 finish in his yellow DHL Honda. Colombian Carlos Muñoz battled his way to ninth place after starting today's 90-lap race in the 23rd grid position. Marco Andretti rounds up the Andretti Four with his 85th Verizon IndyCar Series career top-10 finish in P10.
Following a two-week break from competition, the Andretti Autosport crew will head to Pocono Raceway for the penultimate event of the 2015 Verizon IndyCar Series Championship. Until then, stay up to date on all things Andretti viaAndrettiAutosport.com and @FollowAndretti.
JUSTIN WILSON
NO. 25 ANDRETTI AUTOSPORT HONDA
"It feels great to get a second place. I was pushing like hell to try and get past Graham (Rahal) on that restart; I knew I couldn't lean on him or bang wheels with him – he's a Honda driver going for the championship, so that was in the back of my mind. At the same time I wanted to push him as hard as I could, make him honest and make him earn it. He did a fantastic job today. I had one more push-to-pass left but Graham was too quick (haha) – all the credit to him today because he was on fire. We pushed as hard as we could. I have to thank everyone at Andretti Autosport and Honda for all the work they've done. I'm pleased to get Honda a 1-2 finish at their home track."
RYAN HUNTER-REAY
NO. 28 DHL HONDA
"We had a good car, had a great race. The early yellow that Graham (Rahal) really got lucky on really killed our day, so we had to fight back from there. It was a good fight back finishing seventh considering how badly the strategy went for us, how badly the yellows fell. It was a good day for the No. 28 DHL Honda."
CARLOS MUÑOZ
NO. 26 ANDRETTITV / CINSAY HONDA
"A good comeback for us to finish in the top 10 – we finished ninth. I think the last yellow didn't help us; if it hadn't gone yellow I think we would have finished much further (up on the grid). Again, a great job for the team strategy-wise. We went to the front in the race again, so we really have to think about what's happening in qualifying because it's not normal to start so far back and finish ninth. Now we think about Pocono – it's one of my favorite tracks and I have a lot of good memories there."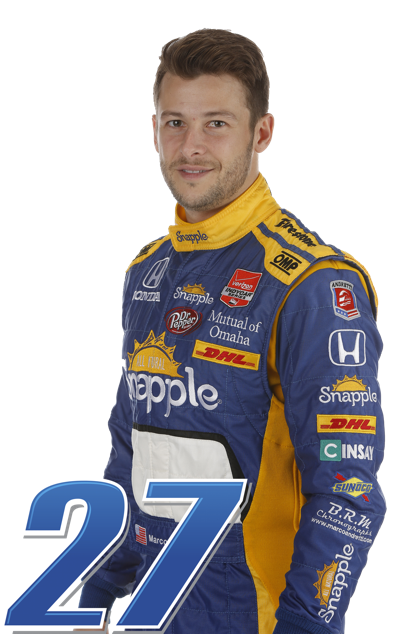 MARCO ANDRETTI
NO. 27 SNAPPLE HONDA
"We finished 10th – worst of the team, so it wasn't the best day for the 27 side. We tried to salvage… we were the best of the cars on my strategy, we just got kind of put out on strategy when the yellows fell."